Our Volunteers
View Application Packet
Becoming An Ambassador
Become a CASA Volunteer!
We are committed to fulfill the National CASA goal of, by 2020, enabling every child in the child welfare system to benefit from the dedicated, one-on-one advocacy of a CASA volunteer. Complete an application to join our next class.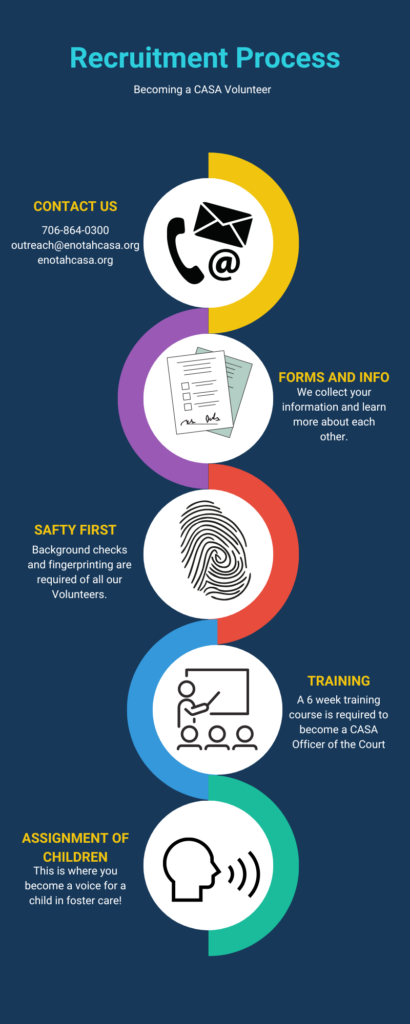 A CASA volunteer is appointed by an Enotah Court Judge to watch over and advocate for abused and neglected children, to make sure they don't get lost in the overburdened legal and social service system or languish in an inappropriate group or foster home. They stay with each case until it is closed and the child is placed in a safe, permanent home. For many abused children, their CASA volunteer will be the one constant adult presence.
Because children are often unable to provide a voice for themselves during this critical and difficult time of their life, a CASA volunteer makes it possible to be their voice by advocating on their behalf.
Responsibilities of a CASA Volunteer
Visit the child

Explain the role of a CASA volunteer

Keep the child informed of all aspects of the court proceedings

Gather independent information about the child to make recommendations to the judge in the child's best interests

Seek cooperative solutions with other participants in the child's case

Interview the parents, guardians or caretakers, social worker & other service providers

Review records related to the family

Prepare written reports for court hearings

Attend & participate in court hearings & other related meetings

Identify potential resources within the family & community to meet the child's needs

Keep all records & information confidential

Monitor provisions of service plans & court orders

Ensure the child's wishes are known to the judge

Advocate for the child in the community

Consult with local CASA program staff for support and guidance

Maintain focus on the child until permanency is achieved
Benefits of Being a CASA Volunteer
As a CASA volunteer, you will ultimately help to change a child's life for a brighter future. You can help to end the cycle of abuse and neglect. Among many other benefits, you will have an opportunity to learn about the juvenile court system and become actively involved in your community. To get started, contact our main office at 706-864-0300 or email our director at information@enotahcasa.org.
Volunteer Qualifications

Interest in children, their rights, welfare and special needs.
Ability to commit to the program for at least one year.
Willingness and availability to participate in 40 hours of pre-service training, consent to criminal record and fingerprint checks.
Ability to respect and relate to people from various backgrounds in a variety of settings.
Interpersonal skills to work with children, family members and professionals using tact, objectivity and concern.
Effective verbal and written communication skills.
Must be at least 21 years of age.