What does the acronymn CASA represent?
CASA stands for Court Appointed Special Advocate.
How is a CASA volunteer different from a social worker?
Social workers are employed by the state and often assigned to many cases at a time. The social worker is responsible for helping an entire family, which includes setting up individual services for family members. A CASA volunteer is the advocate for the child, is not paid, works with only a few cases at a time and does not set up services. The CASA volunteer does not replace the social worker on a case; he or she is an independent officer of the court and works within the child welfare system to advocate for what is in the best interest of the children.
How is a CASA volunteer different from an attorney?
A CASA volunteer does not provide legal representation for a child in the courtroom; he or she does not replace an attorney. CASA volunteers operate as lay guardian ad litems (GALs). A GAL can be an attorney, a CASA volunteer, or both.
 Is being a CASA volunteer the same as being a mentor?
CASA volunteers are only appointed to children who have come to the attention of the juvenile court system due to abuse or neglect. Like a mentoring program, the CASA volunteer does develop a relationship with the child through frequent contact; however, the primary role of the CASA volunteer is to gather information about the child, write reports to the court and attend court hearings. The CASA program is not a mentoring program. There is also a policy to not transport children within all affiliate CASA programs.
Who do CASA volunteers serve and how are they appointed to cases?
CASA volunteers serve children who have been removed from their homes as a result of abuse and/or neglect. They range in age from 0-17, come from all races and ethnicities and have one thing in common – they have been traumatized at the hands of those who were supposed to be their protectors. Once the children are taken into DFCS (Department of Family and Children Services) custody, their cases are overseen by judges in the juvenile courts who appoint CASA volunteers to provide recommendations about what is in the best interests of the children – now and for the future.
I have a question about a specific case or CASA volunteer. Who do I contact?
For questions regarding a specific case the CASA organization is involved with or for questions about a specific CASA volunteer, please contact our office at 706-864-0300.
What is the mission of Enotah CASA?
Enotah CASA's mission is to support and promote court-appointed volunteer advocacy so that every abused and neglected child can be safe, establish permanence and have the opportunity to thrive.
How do I become a volunteer with the Enotah CASA program?
Several steps are involved in becoming a CASA volunteer. You must complete an application, have an interview, pass a criminal background check and go through 40 hours of training. Upon completion of these steps and successfully passing the overall screening process, you will be sworn-in as a CASA volunteer. For more information, please contact our office at 706-864-0300.
What Areas/Counties does Enotah CASA serve?
We serve four north Georgia counties: Lumpkin, Towns, Union and White.
How can I donate to Enotah CASA?
You can make a charitable donation to Enotah CASA securely online by credit/debit card or PayPal by clicking here or via mail by check or money order (make payment to Enotah CASA Inc.) If you have questions, please call our office at 706-864-0300. You may also donate online by clicking here.
How can I get electronic updates from Enotah CASA?
The best way to get electronic updates is by liking our Facebook page.
I don't have much time or money to donate, what other ways can I help?
We have an updated wish list of items we currently have a need for, if you would like to donate an item or speak to someone further, please call our office at 706-864-0300.
Where can I find Enotah CASA program's statistical information?
You can find quarterly and annual statistical information for Enotah CASA on our evidence of effectiveness page.
Are there reference materials on the web site that Enotah CASA volunteers can use?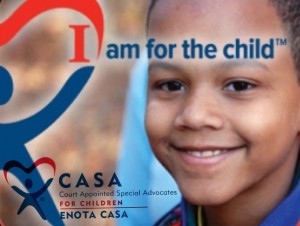 Please visit our volunteer page for good information, or to speak to some directly call at our office at 706-864-0300.