Our Upcoming Events!

What is Enotah CASA for Children?
Every day in this country, 1,900 children become victims of abuse or neglect, and four of them will die. Every day. Court Appointed Special Advocates (CASA) for Children is a network of community-based programs that recruit, train and support citizen-volunteers to advocate for the best interests of abused and neglected children in courtrooms and communities. Volunteer advocates—empowered directly by the Enotah, Juvenile court—offer judges the critical information they need to ensure that each child's rights and needs are being attended to while in foster care.
Volunteers stay with children until they are placed in loving permanent homes. For many abused children, a CASA volunteer is the only constant adult presence in their lives.
Performance
In 2018, Enotah CASA volunteers donated over 7000 hours and drove over 66,000 miles to commit their time advocating for the best interests of 324 children. Our goal is to provide a volunteer advocate for every child who needs one. Your support will bring us one step closer to achieving that goal. Make your tax deductible gift online, by mail or by phone, (706) 864-0300 and help change a child's life.

Pam Curley, GA CASA Volunteer of Year, 2018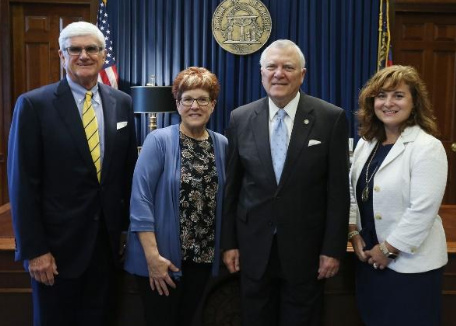 Diana Smith, National CASA & GA CASA Volunteer of Year, 2017