We are no longer accepting online applications for this years festival. For more information you can email us at sorghumfestivalvendorinfo@gmail.com.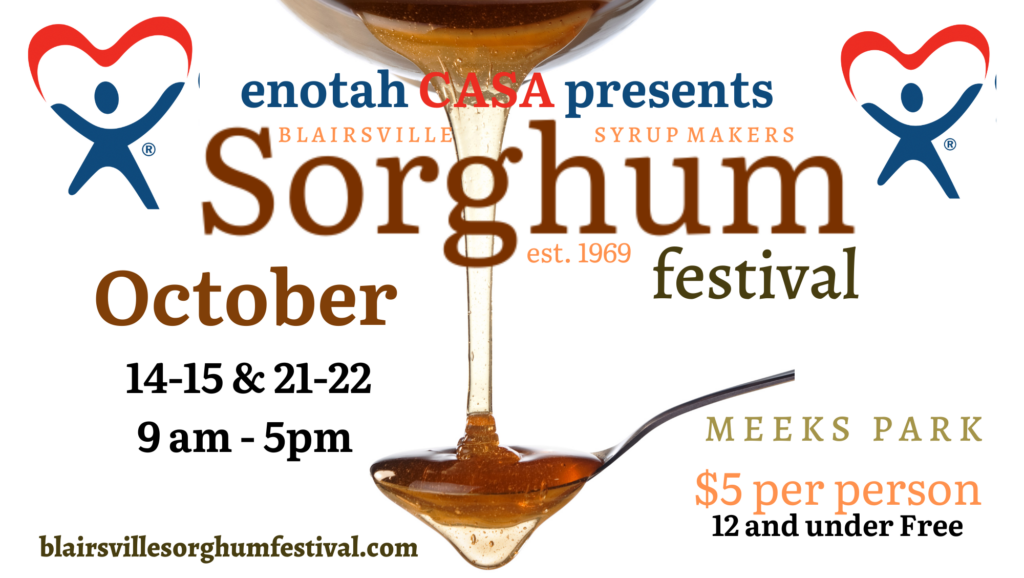 Court Appointed Special Advocates (CASA) for Children is a community-based program that recruits and trains volunteers to advocate for the best interests of children in foster care. This outdoor festival is a fundraising event with a wide variety of Art Vendors, Food Vendors, and Live Entertainment. All proceeds will be used by Enotah CASA Inc. to support the abused and neglected children in our community.
Vendor Terms
Festival Dates:
Saturday, October 14th and Sunday, October 15th
Saturday, October 21st and Sunday, October 22nd
Festival Hours:
9:00 am – 5:00 pm
Vendor Setup:
Friday, October 13th from 1:00 pm to 6:00 pm
Friday, October 20th from 1:00 pm to 6:00 pm
Booth must be set up and complete on Friday by 6:00 pm
Breakdown:
After 5:00 pm Sunday. Even if you are a vendor for both weekends, booths MUST be taken down on Sunday after the festival.
Security:
Security is provided both weekends on Friday and Saturday nights.
As a vendor at the event, you represent the Blairsville Sorghum Festival. If you do not conduct yourself in a professional manner, you will be asked to leave immediately without the refund of your vendor fee or deposit. This is a juried show the Blairsville Sorghum Festival reserves the right of final interpretation of all rules. We reserve the right to approve and deny applications to ensure that the quality of vendors meet the criteria of our event. All non-food products must be hand crafted. Vendor selection and placement will be based on creating the most profitable event possible for you while creating diversity for patrons. YOU MAY REQUEST THE SAME BOOTH LOCATION & WE WILL TRY OUR BEST, BUT WE MAKE NO GUARANTEES. Any vendor who cancels within 2 weeks of the festival may not be considered for future festivals.
Booths must be set up the Friday before each weekend of the Sorghum Festival. Vendor tents must be secured against wind with 30 – 40lb weights at each corner. Weights are nonnegotiable. No vehicles are allowed on the field between 8:30 am and 5:00 pm on Saturday and Sunday while the festival is being held. Thisis for the safety of all vendors, patrons, and volunteers of the festival. Absolutely no exceptions are made to this rule.
There is a specific area for vendors to park on Saturday and Sunday of the festival. Vendor trailers will have a designated area to be left at the far end of Meeks Park, then vendors will be directed to park in an area closer to the festival area. At vendor check in you will be provided with two vendor parking passes to allow you to park in the vendor area. If you have more than two vehicles associated with people working your booth the extra vehicles will have to park in the general parking area. This has been requested by the Union County Fire Department who handles all aspects of parking for the Sorghum Festival.
Application Process
All applications must be fully completed and signed.
All items to be sold by a vendor must be listed on the application. (TWO PICTURES must be enclosed depicting your products if by mail.)
Full vendor fee is due at time of application.

No refunds will be given after September 15th. No refunds are given due to inclement weather.
Acceptance letters will be emailed or mailed (Select on application page). Acceptance generally takes 7-10 days. Vendor information packets will be sent October 1, 2022.
Checks should be made out to Enotah CASA, Inc. Mail completed application & deposit to: Enotah CASA, C/O Fran Parks PO Box 2198, Dahlonega GA, 30533.
---
---